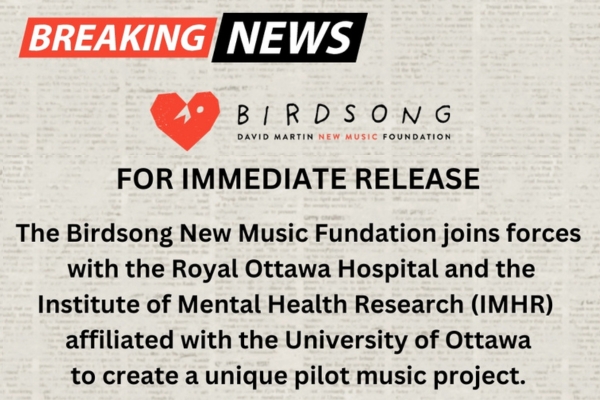 April 24, 2023, Ottawa – Birdsong New Music Foundation announces the beginning of a new initiative to create a pilot music program inside The Royal Ottawa Mental health centre also known as "The Royal" (ROMHC); one of Canada's foremost mental health care, teaching, and research hospitals. This hospital is a major branch of the Royal Ottawa Health Care Group which also encompasses the Brockville Mental Health Centre, the Royal Ottawa Foundation for Mental Health, and The Royal's Institute of Mental Health Research (IMHR) affiliated with the University of Ottawa. The IMHR is one of Canada's foremost research institutes focused on mental health and has a mandate to study music and how it affects mental health.
Principals from Birdsong New Music Foundation along with two birdsong composers/ performers will be sharing their strength and hope at a three-day SYMPOSIUM in Ottawa (May 3-5) billed as follows: Music and Health: Knowledge Exchange, Mobilization and Translation.
This inaugural conference of the Music and Health Research Institute( MHRI – University of Ottawa) in partnership with the Royal , will bring together major post-secondary institutions, hospitals, community based and not-for-profit organizations, multilevel government representatives, the media, and the public. Attending the conference event will be leading researchers from all across Canada, in the humanities and social sciences (music, education, and psychology), health sciences (rehabilitation, audiology, and speech therapy), sciences (neurosciences, biomechanics) and various domains of medicine.
The event is open to anyone interested in the interactions between music and health. It aims to establish community music as a reliable approach to fostering beneficial impacts on health and well-being in various health care environments.
"The exciting part of the conference," says Margaret Konopacki, Founder of Birdsong New Music Foundation, a not-for-profit that produces music by people who live with mental illness and mental health problems, "is the goal is to help people heal embedding music as part of the prescription in wellness care."
Birdsong will be presenting a talk about mobilization for music making and mental health. Birdsong's goal is to help MHRI create a music program inside psychiatric facilities not just as an activity but as a healing modality for people who are there working towards finding health and
wellness. Music heals people. This we can prove through our work and the work of countless others."
Gilles Comeau Founder and director of MHRI comments in his introductory remarks: "We are developing an evidence based social prescribing model - known as MUSIC ON PRESCRIPTION - that would enable health and social professionals to refer individuals to community-based music activities."
Birdsong New Music Foundation will be one of the organizations helping to design a unique music program for patients as research has been proven that music can affect mental health and treat trauma by contributing to mood enhancement, decreasing depression, relieving stress and tension, and overall creating more personal joy and confidence.
Dr. Florence Dzierszinski (President of the University of Ottawa Institute of Mental Health Research at The Royal, and Vice-President of Research at The Royal) adds: "We were witness to the healing work that Birdsong New Music Foundation does during one of their live concerts here in Ottawa, which showcased music that was performed and composed by people who live with mental illness. We are now bringing music to The Royal and working with Birdsong New Music Foundation."
Birdsong collaborates with people who have chosen to spread their vision by composing and performing songs, not only as a form of expression but often as a means of survival. All our composers/musicians agree that music has saved their lives.
All donations to the Foundation support the creation of new music, videos and live performance opportunities for Birdsong artists.
https://birdsongnewmusicfoundation.ca/contact-us
For interviews and further information, please contact: Margaret Konopacki, Founder
E: hello@birdsongfoundation.com